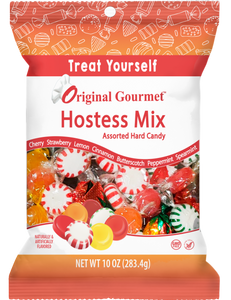 10oz Hostess Mix - Case
Buy in bulk and save 10%!
Get your candy dishes ready! This bag of hard candy Hostess Mix is as nostalgic and flavorful as you remember. Individually wrapped hard candies: Strawberry, Butterscotch, Cinnamon, Spearmint, Cherry, Lemon, Peppermint. Don't forget to also check out our other hard candy options!
Order includes 12 - 10oz Hostess Mix